Hanningfield Metals
Templewood Estate
Stock Rd
West Hanningfield
Chelmsford Essex CM2 8LA
Tel: 01277 840172
map

This is the place the BBC/Mentorn special effects guys hired some of the stuff for the set.
Big place with all sorts of Military scrap, a lot of it ex-RAF. Lots of nice Aluminium and steel alloys.

Small selection of photos from the yard:


Front half of a Bucaneer by the entrance.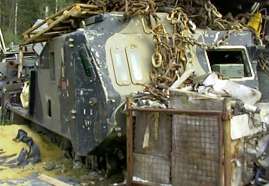 Tracked Rapier - All aluminium armoured missile launcher. Built originally for the Shah of Iran, there are a couple here. We had the door off this one - around 100kg of aluminium armour plate, for £40.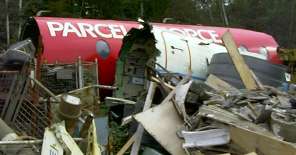 Centre section of a Viscount.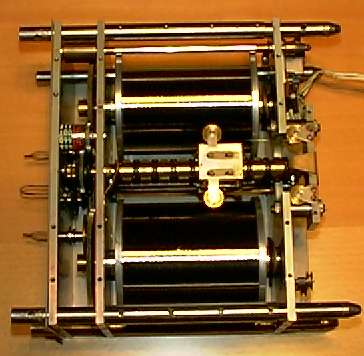 Flight Recorder (black box) from a Viscount. Data is recorded magnetically onto ultra-fine (0.07mm) Nickel Wire. Must be about 50km of wire on that reel!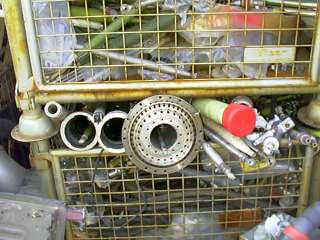 Crates full of turbine shafts and linkage rods.

Bag full of needle roller bearings.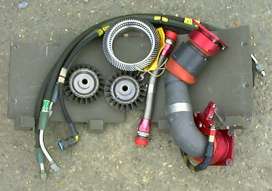 Some of the bits we picked up. Green plate is 9mm Ally armour from Tracked Rapier.
Directions
Head out of London towards Chelmsford on the A12
Take the B1007 exit near Chelmsford, turning right to head south for West Hanningfield
The Templewood Estate is about half a mile on the left.
Inside the estate, Hanningfield Metals is near the end of the lane, on the left.
There's no sign, just look out for the Bucaneer near the entrance!
Open 'til 1.30 on Saturdays